ACRYLIC PAINTINGS
AND MIXED MEDIA
ACRYLIC PAINTINGS AND MIXED MEDIA

PASSAGES


Jennifer is interested in the way light moves across the objects, sometimes defining the edges and sometimes blurring them. It is the push and pull of the light forming passages from darkness into light breaking up shapes and creating a new space which belongs only to the painting; this is what is the concern of the artist The shapes and their edges become the area of her interest in all of this.






Powered by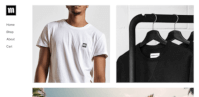 Create your own unique website with customizable templates.